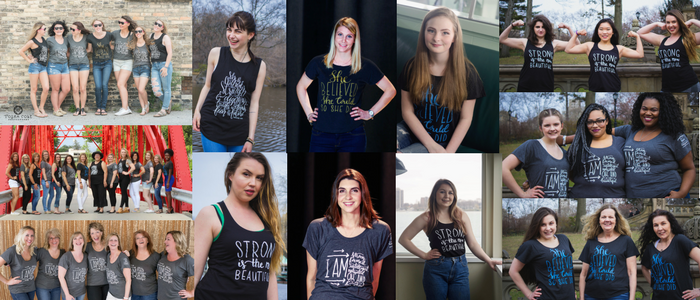 The Beautiful Me Campaign comes from Self Love Beauty's mission is to ensure women have self-love through feeling confident in their own beauty and feeling empowered one story at a time knowing they are not alone on their journey to reach their full potential. Self Love Beauty's online Beautiful Me shop opened in the fall of 2016 and has continued to expand its product line. The shop includes a variety of shirts that showcase quotes for women to choose from to wear that best describes themselves.
The purpose of the photo shoot is to encourage and inspire women and young girls of all shapes, sizes and ages to come together to share their journey to self-love and showcase shirts from Self Love Beauty's Beautiful Me collection.
The hope of this collection is to inspire women to express who they are and to share their stories of how they love themselves to create the ripple effect of inspiring others.
Want to be a Beautiful Me host in your city?
Hosting, attending and actively participating in a photo shoot is a great way to get involved with an outlet to express yourself and unite women in your community.
If you are interested in hosting a photo shoot, please reach out to the Self Love Beauty at info@selflovebeauty.com two months prior. Hosting entails social media promotion and event planning to ensure a successful event, helping to get the models for the event and secure the photographer/videographer/location. Continuous communication with the Self Love Beauty team is important in the promotional timeline.