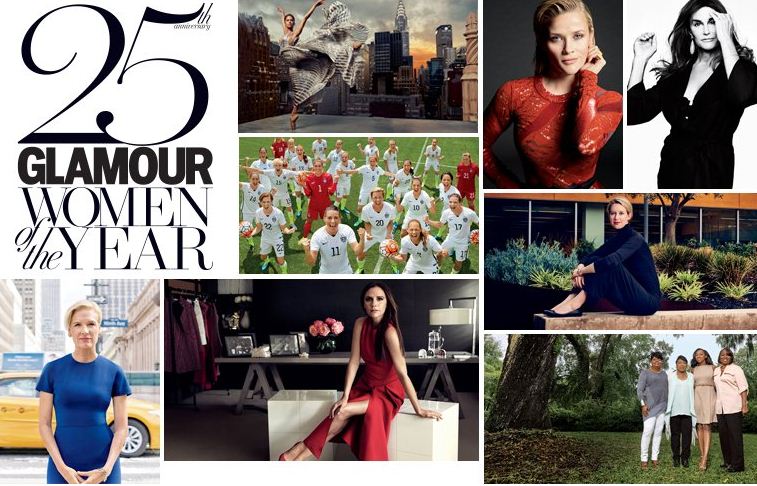 I can't say it enough that it is one powerful thing when we forgive people that don't deserve it, when we empower each other and when we fight for the same causes.
I believe women should empower each other to make changes to the world. Last night Glamour magazine recognized the top women who continue to inspire others. Amy Schumer opened the awards ceremony, which recognized Victoria Beckham, Misty Copeland, Elizabeth Holmes, Caitlyn Jenner, Cecile Richards, Reese Witherspoon, the Women of Charleston, and the U.S. women's national soccer team. The evening celebrated past Women of the Year honorees including Madeleine Albright, Samantha Power, Serena Williams, and Billie Jean King.
"Since 1990, Glamour's Women of the Year Awards have saluted the planet's most remarkable female leaders, and tonight's winners are no exception," said Leive. "They have been inspired and led by the generations of Women of the Year before them, and Glamour is thrilled to celebrate their passion."
I was watching the tweets, videos and quotes going on last night and it brought tears to my eyes. At that moment I received a text from one of my girlfriends wanting to help me fund raise for my upcoming mission trip, the tears kept coming. How amazing would it be if women continued to build each other and help each other? The world would continue to be powerful.
If you have not checked out information on Glamour's Women of the Year 2015, please check it out.
Here are some of my favorite quotes from last night and some that I hope give you the encouragement to empower each other and follow your dreams:
1). "Create a stereotype that young girls can be the best in science & math & engineering." – Elizabeth Holmes 
2)."Forgiveness is power." – The women of Charleston
3). "I believe ambition is not a dirty word. It's believing in yourself and your abilities." – Reese Witherspoon
4). "I want to make a woman feel like the best version of herself." – Victoria Beckham
5)."Let's help girls all over the world do anything and everything." – Ellie Goulding
6). "It is possible to be women and to encourage each other and lift each other up." – Misty Copeland 
7). "Let's all just follow the lead of Glamour, and join forces and lift each other up." – Amy Schumer 
8). "Why are people so afraid of women who are ambitious." – Reese Witherspoon
9). "This is such a symbol of women helping other women to change the world." – Elizabeth Holmes
10). "A lot of ceiling have been broken. But more have to be broken and it's up to the young women up there to do it." – Madeline Albright
11). "Success is doing it together, You cannot find success along." -U.S. Soccer Team
12). "Tonight we are setting the new standard for what beauty and power is." – Misty Copeland