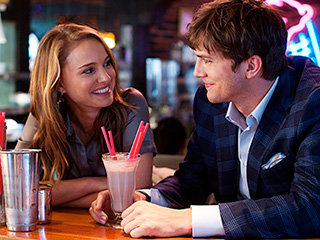 We all have been on many dates. Some good, some bad, some worth laughing about and some that we completely want to forget about. Other times we have some that completely bring a smile to our faces.
Imagine this: Comfortable clothes, pizza, music, dancing and laughter. That was the best date I had in 2015 and if I could relive that night over and over again I would. He was perfect. Mirror imagine of everything I had ever wanted in a man. Between his awkward dancing, kind gestures toward me and gentleman like moves, I could not stop smiling; writing this now I still can't stop smiling. After a struggling year in 2014, I couldn't imagine meeting anyone that would understand me, understand what molded me and what made who I am now. I couldn't imagine meeting someone that I would have a spark with or remotely think about dating. He was that definition, the hot kind, smile the lit up his face, dance moves that made me laugh and hard worker. Of course it didn't start out this way, I had to still face many demons that were still in my way from my past, some things I thought I let go but still trailed behind me… He was there and I just knew I had to give it my all. It was the first time in years I was ready to give my all to someone, because consciously I wasn't ready. As many great memories as we made, he gave me my favorite date I have ever had.
Miss Rhode Island, please describe your idea of a perfect date. Cheryl "Rhode Island": That's a tough one. I'd have to say April 25th. Because it's not too hot, not too cold, all you need is a light jacket.
The Date
It wasn't dinner and a movie, dinner or drinks or anything like that. Those were the start to our so called relationship but what defined it more for me was the comfort I felt being exactly who I was with him. What I have learned through dating different people is the minute you want to change your looks or anything like that for a man, you need to walk away. He saw me in many lights.
The best date I ever had was in 2015. It included a late night of ending the night from being out with friends all night. It was us in my kitchen cooking frozen pizza, listening to Eric Church, dancing around my living room and laughing at different moments in our lives. We just sat on my kitchen counter eating the pizza, making memories as we went and talking for hours. Two 20ish years olds enjoying each other company. If I could go back to that night I would change nothing but to be able to replay it over and over again.
What He Taught Me
He was nothing more than all I have ever wanted in a person and more. What he showed me was I was holding onto a past that I didn't even want, there was so much more for me. Of course with anything, time has a way of getting in the way and we each had our own priorities going on that became the number one things in our lives. If I ever see him again or have the chance to have that moment, I wouldn't waste a second getting it back.
He did teach me that what I want is out there and instead of living in the past, settling for less than what I truly wanted, it is worth it to wait for guys like him. He always taught me as the cliché goes :"Someone will like you for everything you are," I never once felt as though I couldn't be myself and I never had to change my morals or who I was for him and I should never do that. I never thought I had before but I had allowed that to happen before and this was the first time in a long time a man stayed because of who I truly was.
I will always remember the night that made me realize some of the best memories are shutting off your phone, dancing around and being with the ones you care about the most. I use to think my dream date would be way different than that, but sometimes what is for you is the simples things.
Now go find our man that will make your dream date come true too. Who knows unlike me your timing could be perfect.