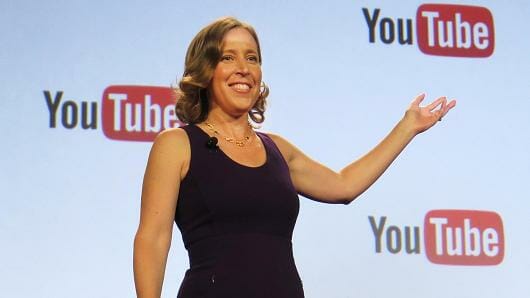 In today's modern world, when most people think about the term "work force," one of the first images that usually comes to mind is that wide shot of the entire skyline of New York City or of Chicago, then zooming in to the one of millions of Starbucks in the city, and there you see an extensive line of business men in their Brooks Brothers suits on their iPhones waiting impatiently for their daily grande latte with non-fat milk… and later they are in the office having a heavy discussion with a client. Or we tend to think of large board rooms and groups of men arguing at each other with how to spend the budget they have set for the fiscal quarter.
Think about it, when we think about these scenarios involving the term "work force," we think of power hungry men giving their right leg to please and work for their clientele. Where are the women? Why do we not think of them?
Luckily for women of this generation, more and more women are dominating the work force. Leading companies and nations, improving technology, and discovering more about the world we live in through scientific revelation. Although this is happening more often than before, there are certain women who have really shaken the way the work force in the world has been for so long. Below are a list of women who have made that extra impact in regards of working women:
Mary Barra — CEO of General Motors
CEO of General Motors, Mary Barra
As #65 on Forbes list of Most Powerful People and #5 on Forbes list of Most Powerful Women in 2015, she has taken the automotive industry by storm as being the first female CEO of a Big 8 automakers. As a master's graduate of the Stanford School of Business, this woman certainly knows her stuff. The feat of being a 35+ year veteran at GM, working your way to be CEO in a typically male dominated industry speaks volumes of her hard work and determination. Barra has taken on many challenges since being the CEO of General Motors, including a 30 million car recall because of faulty ignition switches, along with the blame of 74 deaths and 126 injuries involving this specific recall. Getting a lot of heat from critics, Mary Barra has stood tall and strong and is on the path to making General Motors on top of the automotive world once again. She plans on doing this by making Cadillac an international luxury brand and having GM become a technological leader in the automotive industry. Watch out, Ford and Chrysler…
Angela Merkel — Chancellor of Germany
Chancellor of Germany, Angela Merkel
Considered the most powerful woman in the world (Sorry, Hillary!), Angela Merkel is widely seen as the most powerful female figure because of her strong influence in German culture and making Germany the most stimulating economic country in Western Europe since December of 2014. She was #1 on Forbes List of Most Powerful Women in 2015. With initiatives in clean energy, fighting off a national recession, and helping a wounded Grecian economy. She also is the process of figuring out the Russia-Ukraine crisis, Merkel has been engaging in shuttle diplomacy trying to create a peace treaty with Vladimir Putin. I don't think Angela Merkel is given nearly enough credit for what she has done for the country of Germany and the rest of Western Europe. Along with helping Germany in numerous ways, she also has been the longest serving Chancellor because of what she has done to Germany. Three four-year terms… just amazing. On top of all the great things she has done for Germany, she also has a doctorate degree from Leipzig University as a physical chemist. Smart and awesome. I have to admit, I'm a little jealous of this woman's abilities.
Susan Wojcicki — CEO of Youtube
When it comes to all things viral and video, Susan Wojcicki is the woman who knows all. As the 16th Google employee (one of the originals), the initial start up of YouTube was taking place in her Menlo Park garage. Wojcicki is also #9 on Forbes List of Most Powerful Women in 2015. She worked her way up as the leader of ads and commerce at Google to eventually became CEO of YouTube. With Silicon Valley and the technology world also being predominately male, Susan stands out as a star in the world of internet, technology, and computers. In 2006, Wojcicki was one of the largest endorsers of the (then) new video streaming site YouTube and gave the company the $1.65 billion to help its efforts. To say this promotion was a long time coming is an understatement. YouTube, with more than 1 billion visitors a month, is now valued at some $20 billion, with revenues in 2014 hitting $4 billion, making YouTube one of the most visited and profited websites around the world. With her belief and loyalty to Google and YouTube from the beginning, the company continues to flourish and grow every single day. New users and videos every second of every day.  And, boy, did she help create the most entertaining site on the face of the Earth. Where would I be without makeup tutorials, corgi videos, and clips of the Wheel of Musical Impressions that were on the Tonight Show with Jimmy Fallon last week? Thank you, Susan Wojcicki.
With these women running huge corporations, dominating the political world and plenty of other things, it reminds us that women can do anything and that anything is possible with a lot of hard work and determination. Let's face it, women are capable of anything. We are closer and closer every single day to shattering the glass ceiling that covers most women (although, I wouldn't mind saying there is definitely a crack in that ceiling! Progress!). I hope this has given you all as much inspiration as it has for me to do the things you want to do and not let the intimidation of male dominated industries shake you. We can all contribute something awesome to this world if we put enough work in, and it can take you incredible places like it has for these women.