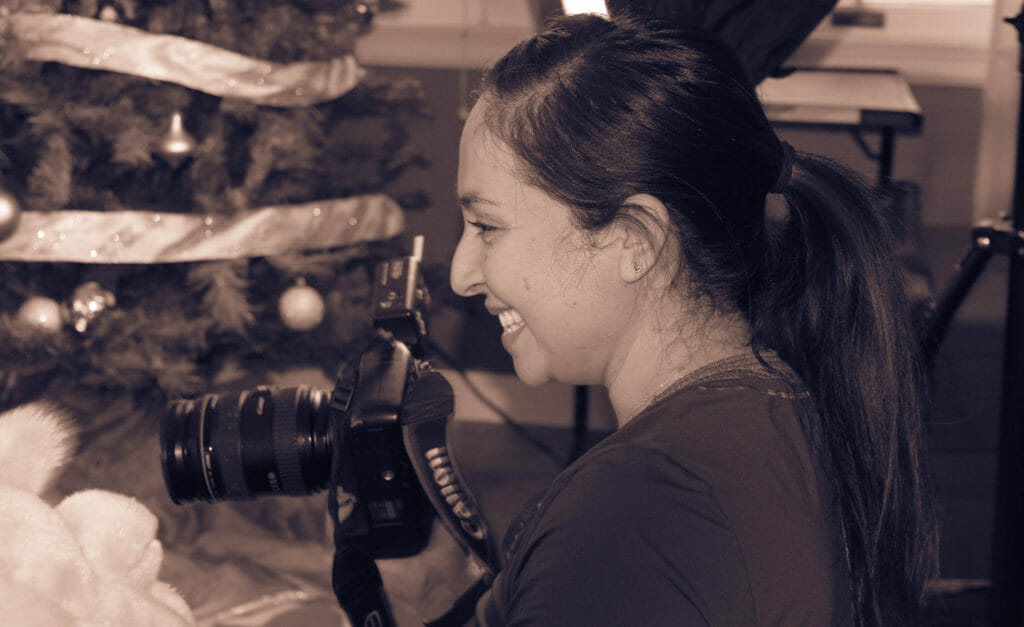 ---
I am so excited to announce that Self Love Beauty is starting a new series called our Women Empowerment series. There are many times where women right in our towns are doing amazing things that go unnoticed. They are women who are rocking it in their career, making a difference in others lives but also working to empower each other.
Meet Lucille Pagán or as I like to call her one of the "wonder women" of the world.
I first met Lucy at a young professionals networking event followed by borrowing her equipment for a photo shoot. I learned quickly how amazing she is as a person, all the amazing things she is involved in and her down right kindness. I had the opportunity to interview Lucy and learn more about her passions and love for life. She was so fun to watch in action during our photo shoots! Check out this amazing interview below and I hope  you are as inspired as I am:
1. First off before I even get started, I have learned so much about you and the best way I can describe you is as a wonder woman- you do it all! Can you tell me a little more about your background?
It's funny you say Wonder Woman because lately I've been getting items with the her logo – from workout pants to coffee mugs to nail decals.  Although I was born in Pontiac, I grew up in a small town called Defiance, Ohio.  I come from a close knit family of 4, my mom, dad and my sister who is 2 years older than me. I have always looked up to my sister, following in her footsteps joining band and in running marathons.  My parents are the greatest – always supportive in my endeavors and encouraging me to always do my best in everything I do.  I attended The Ohio State University and obtained my Bachelors of Arts with a focus in Photography, and after graduating I immediately began working for a portrait studio and eventually became  the manager for several years. In 2012, I moved to Midland with my now husband Anthony.   I felt a little lost at first, but knowing I had several talents, I have managed to find my groove, and I can truly say that the past 4 years have flown by.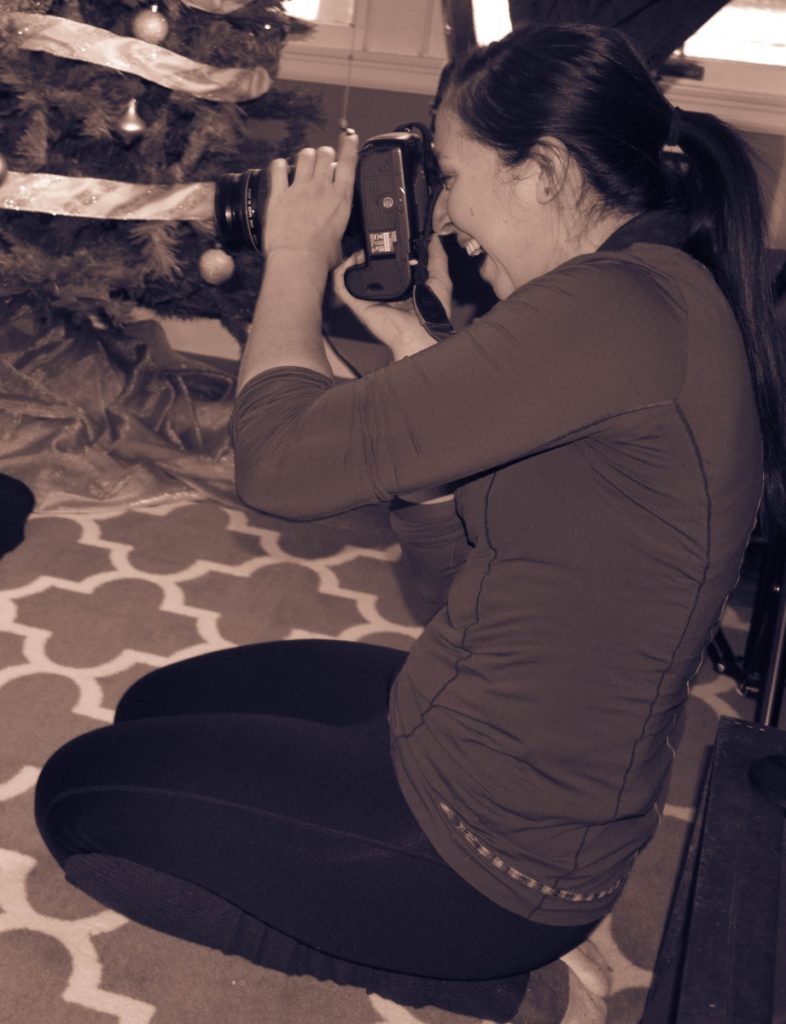 2. Lucy, I know your current career is at Northwood University is Admissions Representative, can you tell us a couple things, what this role entails, how you got into this position and your passion for it?
I started this role just 6 months ago and I love it! I work for the DeVos Graduate School of  Management at
Northwood University
.  In this role I help in recruitment for our Masters programs as well as assist students through the admissions process.  My previous role had me very involved in the community, so the transition to DeVos was pretty seamless.  I get to be involved in most of the same organizations and attend some of the same events.   When I had first moved to Midland in 2012, I had actually looked for an open position at the university, but unfortunately nothing was available.  Flash forward to spring of 2016, I felt a lack of passion for what I was doing for my full time job and found this position open at Northwood.  I immediately jumped at the opportunity.  I get to interact with individuals everyday and learn about their passions and motivation for furthering their education – this is very inspiring to me.  
3. Not only do you hold one awesome career but you do some other amazing things, hmm where do I begin, you are a photographer, a fitness instructor, a marathon running and going to get your masters? So do us favor and share a little bit about these passions and how they make you who you are and why you do them!
About 7 years ago at my family's Christmas party, my cousin's gave me the nickname "Party in the Box"  – they said "you do hair, nails, makeup, dance, take pictures …you do it all."   I've always been creative since I was little, whether it was doing complicated braids on my barbie dolls to doing nail designs on my mom and sister.  While I don't consider myself a professional hair dresser or makeup artist, I have done weddings where I did the hair, makeup and photos – the whole package! To me, its just fun. I love enhancing a person's natural beauty.  As for the fitness stuff, I would say it started with dancing.  I have been a dancer since I was little. I never was enrolled in dance classes as a kid, I just dance from the heart and how the music moves me.  As I grew older I realized that dancing was cardio and that I could make a workout out of it, and thus the fitness track came along.  I now teach Hip Hop Dance, Kickboxing and other cardio/ weight classes at
Reaction Fitness
in Midland.  My sister was the runner, I was not. But because I always look up to her, I wanted to do what she did.  So in 2004 when I moved to Cincinnati with her right after college, she introduced me to half marathons and later marathon running.  To this day, I am proud to say I have completed 3 full marathons and 9 halves – and I'm not done yet!  As for my masters, I feel I have so much to learn.  With my love for various things, I want to be able to hone in on what it is I am really meant to do, and do it well.  I know that a 2 year commitment is going to be tough, but ultimately it will be a transformational and self discovery period for myself.   Why do I do all of this? Because I love being around people, motivating others, making people feel good about themselves, making people laugh and smile, and knowing that perhaps I might be helping to make a difference in their lives.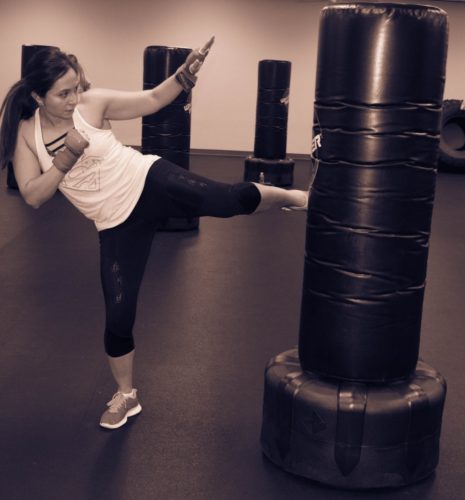 4. I think I forgot to mention you also have an Instagram called globejumper! What is the reason behind starting this?
If I recall my first jump photo, it started in Vegas when I went to run my first marathon on my birthday.  I happened to jump in front of the Luxor Hotel and from that moment on the "jumpshot" was birthed.  I make it a point to do a jump photo every place I travel to, and now have stored these memories on Instagram!  The photographer credit goes to my husband who has mastered capturing the jump.  I also smile after I finish my jump shot and I see others trying to do the same picture. I will continue to do this until my legs don't allow me to do so anymore.
5. I know you have your hands in many things right now so what advice would you give to a woman that is struggling to balance her favorite things?
That's tough. I have always been a "yes" person, and some people will say – "where is your me time?"  But to me, the things I do, the teaching, the running, doing people's hair for fun – that is my "me time" because I am having fun.  I've gradually been working on becoming a "no" person, and it's hard.   What I do is determine how much time something will take, can I put 100% into it, and what is the gain? – this would be my advice!
To me this means loving and accepting who you are as a person, being confident in your skills and talents, and seeking ways to always improve yourself whether it is spiritually, physically, and mentally.  Self-love is also realizing when you need help. People need to realize that there's nothing wrong with going to
counselors Napa
if you're not feeling yourself — they're the best way you can get to learn to love yourself! Always realizing that you are unique and there is no one else like you, so you have to shine on!
7. What is your favorite thing to do when you are not working?
I love volunteering – giving back to the community in whatever way I can.  I've volunteered 2 years in a row for
Habitat Humanity
Women's Build Week and look forward to doing so again this year.  This past holiday season I checked off bell ringing for Salvation Army from my bucket list – that was a blast and I will definitely sign up again.  I stood out front of Family Fare with my speaker and danced to holiday jams while ringing the bell for donations.  But whenever I am on vacation, or have some downtime at home – I love watching cat videos and hair or makeup tutorials on YouTube !
8. What is your go to healthy snack?
I used to be afraid to try greek yogurt because it looked like sour cream to me, but my husband convinced me to try some one day  –
OIKOS Key Lime Greek Yogurt
, it's delicious.  Sometimes if I am running late to work I just grab this as my breakfast and it is pretty filling.  When I have more time, I enjoy making a smoothie with strawberries, blueberries, banana, oats and vanilla yogurt.
9. If there is one thing you could tell your 10 year old self in middle school, what would it be?
I remember when I was 10 in 5th grade, I had the most beautiful cursive handwriting.  It was very small, but so perfect in my eyes.  Well, one of my teachers didn't think so, and gave me a "D" on my assignment because she said it was too small and couldn't read it.   After that, my cursive went down hill –  I wish I would not have listened and continued to practice my handwriting, but just a little bigger font lol.  But really, do what makes YOU happy and surround yourself with good people, because they are a reflection of you.
---
Lucy also shared a quote from her father that has stuck with her throughout the years:
"She who does not take care of herself will have others do it for her "  
Lucy went on to end by saying:
"Be confident in your decisions, and make smart decisions, because if you don't, quite possibly someone else could be making the decision for you, and you might not like the outcome.   You have a choice everyday you wake up, whether you are going to have a good day or a bad day.  It is all about your attitude and how you approach the day.  Wakeup and give thanks for another day of life!" 
Here is to another empowering woman that shows us what true self-love and strength is and what fun life can be! Lucy is one of the best and if you can follow her lead you will succeed at anything you do!
---
Thank you for reading!
Know an empowering woman we should feature?: Email us at info@selflovebeauty.com
Subscribe Today: Please be sure to subscribe to our website for discounts weekly, updates and more!
Discount to our shop: For reading this article, please be sure to visit our shop and get 15% coupon off your purchase by using the code: selflovebeauty
Be sure to check out our shop and follow us on social media or contact us  Facebook, Twitter, Instagram, Pinterest or Email.
---