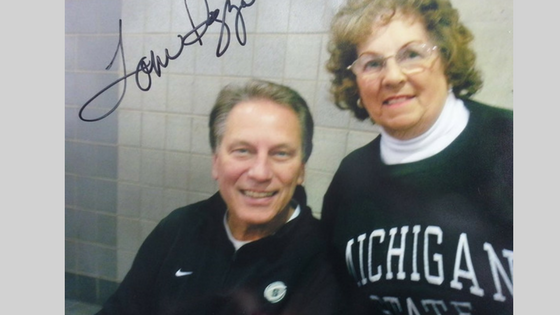 Picture this. Being married for more than 50 years; working on the family farm everyday but making sure your nails, make up and hair were complete done perfectly every day; calling your family and friends on EVERY holiday and birthday (Yes calling not texting); sending personal cards through postal service for every reason possible; and imagine being the most beautiful person that lit up the room by your kindness and caring heart?
This was my Godmother Marilyn. She was the image of the most beautiful woman I have ever met. She is part of the reason, I have transformed into who I am.
Since I was little my godmother was my cheerleader in all aspects of my life. She called me all the time, stayed in touch, sent me cards, gifts and anytime possible would come and see me. She always told me she was proud of me and never made me feel judged or worthless. I get tears just thinking about how her presents made anyone feel like they were the best thing around!
She was a Michigan State fan, a farmer, a mother, a wife, friend and most importantly the most caring woman.
The week of Easter 2016, I received the phone call from my mom that she had passed away.  It was that call where your body gives you instant tears, you fall apart and cry for days. I have been around death before but this time was different. This time I knew I wasn't going to get that phone call on my birthday that was just three weeks later, or that card in the mail with a paragraphs of details about how the family is, and most importantly I wasn't going to get that call to have someone tell me they were proud of me. I wasn't going to have her give advice to me on my wedding day, she wasn't going to see me grow up anymore and she wasn't going to hold my hand when I needed it.
I lost my cheerleader that day but what I gained was more than I lost. Marilyn taught me key lessons in life that I will forever be grateful for:
1. Do not judge
She never judged someone based off of their decisions. She may not have always agreed but she never lectured or told us that we were doing wrong, instead she loved you for everything you were.
2. Be Kind
Through kindness you teach others how much they deserve and are worth.
3. Be the Light in the Room
She always lit up a room by how she would just love on everyone around her, she was amazing. She paid attention to everything you said and the next time she saw you she would always start the conversation off right where it ended.
4. Send Snail Mail and Make Phone Calls
With society as it is today it, the little messages that are not texting truly make a difference. She never forgot anything and personalized all her notes. Sending a letter with an actual stamp is always a good ides
5. Love
Never stop loving on people. I always knew she was going to hug me and love me for everything I was.
6. Tell People You Are Proud of Them
I will forever be grateful to have a cheerleader on my side like her. She was so genuine in how proud she was of me and what I was doing. I now I know I have to return the favor and do the same for others.
7. Always Work Hard and Give Everything Your All:
She wore multiple hats but no matter how worn out she was she put 110% into everything and worked hard at everything.
8. Age Doesn't Matter
Marilyn was over 70 when she passed away but her spunk was of a 20-year-old. She never let her age define her and what she wanted to accomplish.
9. Always show who you are through your beauty
Self-love and Confidence is extremely important, it makes your beauty radiant. Marilyn taught me that by having this in yourself it rubs off on others.
10. Never let anything set you back
Just like most of us Marilyn went through ups and downs in her life, however you would never know that when meeting her. She never used them as excuses but instead showed her qualities and love to the world every day.
11. Have Faith
Marilyn was active in her church and always let God lead the way. She never judged anyone but instead used her faith to love on everyone.
I may have lost my cheerleader that day but I gained an angel that I know is looking over me and I strive every day to make her proud. I promise to live as you did.