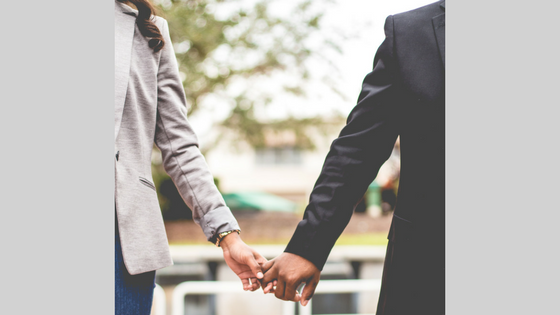 Independence is an important part of growing up. We are told as a junior in high school it's time to start planning for the future, creating your dreams, figuring out what you want your career to be, who you're going to become and shortly after, beginning this journey. But independence doesn't always come so easily. All of these questions were not answered overnight, nor in a week, a month or even a year. Change occurs every day, and it's up to us to decide what we will do with that change. Much like independence, teamwork and collaboration takes time and hard work as well. Although it's important to have your own mind, set career goals, create independence and self-attitude, it's also important to work together in a team setting. In the past month I have become all too familiar with this collaboration as I've embarked on a new journey with my better half.
A little over a month ago, my boyfriend and I started a new journey. I was ready to follow my dreams and take a path that was destined for me. Although it was a little bit out of my comfort zone, I began a new job in a new city. After being in a distant relationship all throughout college, I was ready to take on this move with a positive and excited face. But I wasn't ready to leave the one person I knew could help me make this transition. Like the amazing person he is, he was willing to make the move with me, and help in this new transition for me. Our weekends spent together in college were always treasured but seemed too short and busy with homework, projects and studying. It's the time I've gotten to spend with him now that I've realized how treasured our moments together really are, and just how lucky I am.
I find myself sitting on the couch some days after a long day of work, just smiling as I watch him in the other room making me dinner and pouring a glass of wine for me. It's like a dream has come true. Something I thought was so many years away, has actually started to happen – and it's these things I've noticed to be of utmost importance in my life.
Living together has actually given me an appreciation for my own independence. I've learned a lot about each of us; from personalities and quirks, to the little moments I used to take for granted. Most importantly, I have realized how exciting it has been bringing our two independent lives together as one. Bringing together our likes and dislikes and creating something new. Not only is it about finding that balance, but it's about the give and take in a relationship, it's about picking your battles when things don't go your way, smiling and appreciating the little things, and merging our independent beliefs, talents, characteristics and personalities to creating a whole new being. And that being is who we strive to be, that unimaginable third person of combined beauties.
Keeping balance in a relationship is key to success. As lives begin to merge and you continue to move towards future success, staying true to yourself but also being adaptable to change will help create a healthy relationship balance. I have started to see it in my own life as a positive stepping stone towards my future as a an independent woman sharing my life with another being. Whether in a relationship, friendship or even as a work team member, I encourage you to try to create a balance; see what life has to offer when lives begin to unite, you may be surprised with the outcome you start to see.
---
Guest blogger, Danielle Sova, I was born and raised in Saginaw Mi, currently living in Troy MI. I am a graduate of Central Michigan University, bachelors degree in Science, double major in Dietetics & Child Development. Currently working at Beaumont Hospital Royal Oak as a dietetic intern. Hoping to one day couple my two degrees and focus on pediatric nutrition. I enjoy reading and traveling in my free time.