I haven't been writing much, mainly because I have been trying to figure out life as we know it. I like to have my hands into everything and maybe that is because I am passionate about multiple things or it because I am trying to figure out my calling. However, if I am being honest, it can be exhausting. Now I understand why students use quick essay writing services to complete their essays. Life can sometimes get in the way, especially when you have work and other hobbies to attend to. You generally find that you have no time for a lot of things. But this is why being able to prioritise is important. It has come to the point where my body is asking for a break and my friends are wondering where I am (which if you know me that has never ever been the case).
I am sure many of you can relate trying to figure out 'What is my purpose in life?'
For me this is something I think about a lot but I also get lost in trying to be multiple things at one time. 
So I decided to try an exercise. An exercise to see if where I am spending most of time actually fits under what is important to me in life. This is an exercise I recommend to all of you! 
Step One: I sat down and wrote down what I wanted my priorities in life to be, limiting to only 5.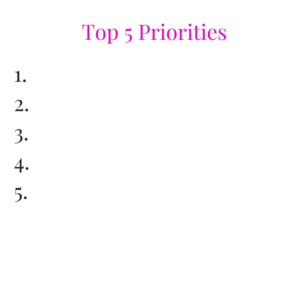 Step Two: After I did that, I wrote down all the things I am part of and where I spend my time. I made a pie chart and showed the percentage of time I spend on each item (equally 100%).
Step Three: After step one and two I looked at the list of everything I spend my time on and tried to see how they fit under my 5 priorities.  For me personally,  I realized I was spending my time on items they had nothing to do with priorities and I wasn't spending enough time on some of my priorities.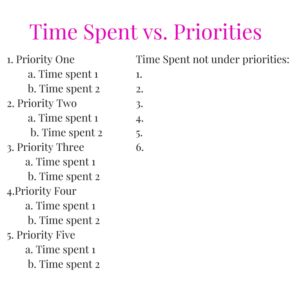 Step Four: I then wrote down all my emotions of how I have been feeling when doing these things in my life.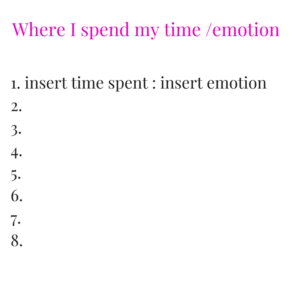 Now the hard part…making the change to fix this.
Creating the change: Over the last month I had to spend time I learning to change that. That meant getting rid of stuff on my plate that didn't fit there anymore, reevaluating the items that didn't give me 'happy' emotions and add things that I needed to.
One month later I did the same exercise to see if anything changed. 
What did I learn? I learned I needed to redirect where I was spending some of my time because they didn't align to my priorities. I had to finally learn to say 'no' to the things that didn't fit under these priorities because if you spread yourself too thin you cannot give 100% to what really matters to you. I was able to add things that did and with that my list of emotions where much 'happier'. 
Through the second evaluation I did realize I wanted to ADD something to my priorities… that was myself. 
Yes, did you realize I forget to put myself as a priority? 
Don't forget to think about self-love and self-care they are both extremely important. I decided to add a priority so I had to again reevaluate the pie chart to make room for myself. 
It is okay to have 2 priorities or 6 but more than 10 you will spread yourself too thin. Life is about choices and as hard as it is to decide the best part of all of it is that you get to choose what you do with this life and where you spend your time. 
If you try this exercise and you realize a priority is faith but you aren't active in your faith community- maybe this is your chance to start to.
Maybe you realized your career/full-time job didn't even make the list. Maybe that is where you reflect on what you want to do with your career and make a change.
This past month I have started to pay attention to what really matters more than ever. Time goes by so fast and if we don't appreciate what we have in front of us, we will be wasting time away.
Now go and try this yourself,  this has become a regular exercise of mine now as I continue to change my life!