What is your story? What makes you become a confident, empowering woman? Women from the Midland, Michigan area came together to share just that with Self Love Beauty through our Beautiful Me campaign. 
Our Beautiful Me campaign has been bringing women together to showcase the shirts from our shop as well as hear from women on their journey to find self-love and what makes them beauty. Click here to view the photos from the Midland photo shoot.
Each person has their struggles and it is amazing to hear their stories so we can help others relate through story. Quite often you see people looking for Life lessons and quotes that help them through their situation because they can see that others have managed to get through tough times too.
Hear from women on their journey to find confidence: 
I'm still in pursuit of being a confident woman. I try everyday to be kinder to myself and stop my negative self-talk.- Ali Cnudde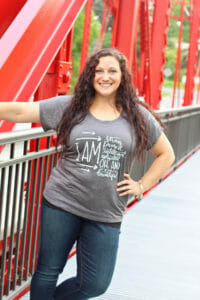 "I think my story is still a work in progress. It all started as an athlete
 in high school and then in college. That's when I am comfortable and feel like I am in my own shoes. I now feel like I can do anything because of my drive that I got from playing in sports my whole life." Alexsis Koch
"I became and confident woman after leaving a bad relationship that made me feel like I wasn't a lovable person. After I left that relationship I was able to focus on myself and learn to love myself. I saw that the relationship changed me and I didn't like it. I saw that I needed to believe in myself and stop giving up on things and missing out on other opportunities because of someone else. I knew I needed to learn to love myself before I started dating again. Then I met my husband who helped me become confident in myself and show me just how lovable/wonderful I truly am. Also once I had my daughter I knew with all of the body shaming and bullying these days I needed to be strong and confident for our daughter. I need to teach her how to love herself no matter what . I am her example. " Nichole Elledge
"When I was younger, I had extreme social anxiety and was super self conscious. I wanted to be someone other than myself. I didn't like the way I looked, I cared what other people thought of me, and felt like I couldn't be myself with anyone except my family. It took a long time to feel comfortable in my own skin and confident in who I was. When I went away to college, I started to learn more about myself and really came out of my shell. Being on my own, trying new things, and just putting myself out there, really helped me become a more confident, empowered woman. After I graduated and moved off on my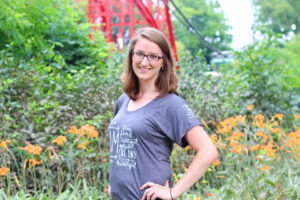 own, I grew more confident as I learned how to support myself and take charge of my own destiny. Don't get me wrong, this journey was by no means pretty, but I wouldn't change it for the world. Because without those messy life experiences, I don't think I would be the person I am today." – Marie Nesbitt
"A former health teacher turned studio owner, put me in a position to help change or influence the lives of others which means I need to lead by example ." –Amy Jaster
"Through embracing the good in life and learning from the hardships." -Alyssa Bickel 
"Throughout my childhood my dad always told me "numbero uno" meaning number 1 in Spanish… sounds silly but it taught me always to keep me in mind first. I still repeat it to this day when I find myself caught up in the chaos life brings and remind myself to take care of my mind, body and emotions. It can begin to sound selfish but to remember about ourselves and show ourselves love is key to living my life freely. It has taught me to be true to who I am, my dreams and future. Over the years, I've learned so much about my self talk and being "my own best friend", someone I can count on. My confidence and self love stems from loving and being true to who I am." – Samantha Schlicker
"Learn from your set backs instead of dwelling on them . Remember to celebrate the small wins and your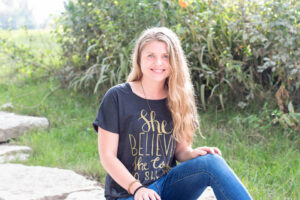 will find peace in the process." -Selena Ashley
"I kicked cancer in the face while maintaining a positive attitude and having a lot of laughs"- Hayley Coleman
"I discovered my self love through my involvement with SLB. It has been incredible to a part of the blog as it has grown. I have been honored to witness it touch so many woman's' lives."- Gabriella Hoffman 
"The Air Force played a huge role in me becoming who I am today. I loved being in the military, it had its ups and downs, and there were days when I was away that I cried more than smiled. But it taught me incredible things. It taught me that I can take care of myself, that I can hold a career, be successful, pave my own path, and it taught me to be proud and it humbled me all at the same time." –Delainey Doughty 
"My strongest support system is my immediate family. My mother and father have always encouraged me to strive for success, and they have supported me every step of the way. I know I am so blessed to have graduated college debt-free with a 4.0 GPA, traveled the world through study abroad opportunities, landed more than 10 internships in a field that I love, and so much more. I know that I can do anything I set my mind to, and I take great joy in sharing my story with other young minorities to encourage, assist and mentor them to strive for success as well. I also take pride in my characteristics of a confident, empowering woman as I want to be the best role model for my younger sister to look up to." – JoLena Broussard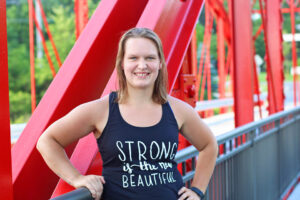 "In the past, I have tried to be that size 0. I have worked out for countless hours and ate very little. I have ran for hours on end and hated having muscles. I would avoid working out my legs or my shoulders because I hated how muscular they were. I hated being the girls with the big biceps or big, broad shoulders. Then I discovered CrossFit. CrossFit showed me that having muscles bigger than the average person is a good thing. It not only is impressive to watch a person throw about 170 pounds over their head, but the hard work and dedication it takes to get it there. CrossFit has opened a new world for me and has shown women, all shapes, sizes and ages, that being strong is a beautiful thing."- Danni Radosa
"Through the revelation of God's constant belief in me walking out of the darkness and into the light." -Ruth Rushlow
---
The Beautiful Me Campaign comes from Self Love Beauty's mission is to ensure women have self-love through feeling confident in their own beauty and feeling empowered one story at a time knowing they are not alone on their journey to reach their full potential.
Self Love Beauty's online Beautiful Me shop opened in the fall of 2016. The shop includes a variety of shirts that showcase quotes for women to choose from to wear that best describes themselves.
What is the Beautiful Me Campaign?
The Beautiful Me campaign and store is to inspire women to share their stories of how they were inspired to love themselves, what they love about themselves and the challenges they faced to get there.This campaign is to showcase how all shapes, sizes, ethnicity and ages are beautiful.
This campaign is to spread the word about women's journeys to self-love. We have been traveling to a variety of states and cities for photo shoots of women of all shapes, sizes, ethnicities and ages for them to showcase how our shirts look beautiful on everyone and to have women share their story on what beautiful and self-love means to them.