Have you ever considered that your flaws and shortcomings might just be lies you've been telling yourself all along? You are strong. You are lovable. You are enough. These are the things you deserve to say to yourself. These words are the truth!
Our mission is to ensure women have self-love through feeling confident in their own beauty and feeling empowered one story at a time knowing they are not alone on their journey to reach their full potential. For many of us, no matter what we do or hard we try, it feels like we just can't add up. This mindset can hinder our growth and prevent us from shining like we are able to.
I recently I had the opportunity to connect with Mimi Matthews, a public speaker, writer, teacher and mother who has dedicated her entire life to empowering others. I want to take this opportunity to share Mimi's story of how her hard work, faith and love have empowered her to help others find their inner light! Mimi is living proof that no matter what your age and no matter where you are in life, you absolutely can make a difference!
---
Can you tell me about your background?
I was born in Little Rock, Arkansas. My mom was a teacher and my dad a preacher. When I was almost a year old, we moved to Texas so daddy could attend the seminary. Then the summer after my first grade, in 1957, we moved to Michigan so he could start churches here. I moved five more times, with the final one being to Flint in 1968 where I attended 11th and 12th grades at Flint Central.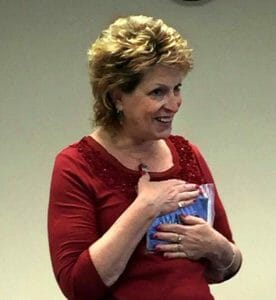 My first year of college was at U of M Flint. Second and part of third was in Arkansas, attending Ouachita Baptist University, the college where my parents met, and in the town where my aunt and grandparents lived. My last two years of college were at Michigan State where I completed my bachelor's degree in education.
Have you always been a people person?
I have always loved people! People are so interesting, they all have a story and I love hearing them.
What gives you your strength?
First of all, my strength comes from the Lord. There is no way I could have accomplished all I have without God's strength, guidance and grace! Secondly, I am an independent person by nature, a bit headstrong, but very motivated. If something needs to be done, then I will work to do it. Many of the hurdles and obstacles in my life haven't come with the option to quit, so by working through them I've become even stronger and more determined. Thirdly, I come from a line of strong women. My grandmother ran the farm in Arkansas while my granddad was here in Flint working at the factory. My mom was basically a pioneer to Michigan while daddy began churches. Moving from Texas and leaving all the family behind with three young children in tow had to be quite difficult. And then to move five more times? Finding teaching positions, houses, and new friends each time was hard, I know, but I never heard her complain. Not once. She was amazing! So I guess it's in my genes to be strong and independent.
Can you describe your current career with empowering?
My career right now is varied. I began Passionista At Large in 2011 because I felt called to speak to women, helping them learn truth and gain tools they can use to improve their self-esteem. While I have spoken to groups, I'm finding many other ways to accomplish my purpose.
One way is through my Empowordment Cards by Mimi line of greeting cards and calendars. I believe that words are powerful and how we speak to ourselves affects our everyday life. I designed these cards using quotes that empower and encourage as well as affirmations and declarations of who we are as women. It's important to tell ourselves the truth instead of believing lies, so these serve as a visual reminder.
Another way that I am empowering is through Instagram posts. I am called to be an encourager and I post as such. Our world needs to know that each of us are amazing and has a purpose. I strive to communicate that. I also have a blog.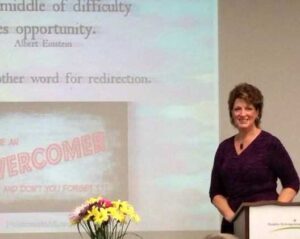 My newest way of empowering women is through Women2Women Michigan, where I have been hired as executive assistant. I am quite excited about this new job! Women2Women is all about helping women find their self-worth and true value. That is the owner's passion, and we are a great fit. I write a column in the bi-monthly magazine that W2W produces. It's called "Sparkle and Shine" and I provide motivation and tips on how to shine our light. Also, I am helping organize our "Passion and Empowerment Summit and Women's Expo" which will be held in Birch Run on October 20 and 21. It's going to be great, by the way!
Did you always think you would adopt?
I never meant to have children. But I adopted two of them at the ripe old age of 50! Basically, I became a foster parent hoping to care for newborns during the 21 days a birth mom is allowed to decide for sure that she wants to give up her baby. After that period, those babies would go to their adoptive families.
Well, as the saying goes, "We plan, God laughs". Our first baby was a tiny five-month-old who was quite malnourished and needed lots of love. Needless to say, at about eight months, we felt we were supposed to keep him. A year later, the adoptive worker urged (begged, pleaded with) us to adopt our (then fourteen-month-old) daughter too. It was meant to be, so the next year when they were around two years old—and my husband and I were grandparent age—we adopted them.
Needless to say, they totally changed my life and who I am! I was teaching full time, driving 45 minutes one way, getting up at 4:30 in order to get us all ready, and out the door at 6:30! During this time, my son would wake up at least twice a week during the night and wouldn't go back to sleep. I was exhausted. But I fell in love and would not change anything! They are my treasures, and with their history of being rejected and abandoned (and exposed to drugs and alcohol prenatally, which has caused many issues) my purpose as their mom is to ensure they know they are unconditionally loved, valued, and cherished.
Can you tell me what it's like being an adoptive mother?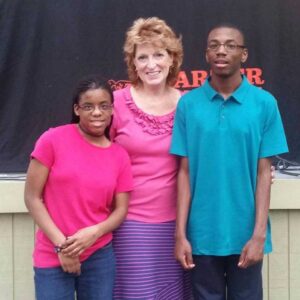 Being an adoptive mom can be challenging, and our situation is even more so because I am Caucasian and my children are African American. We have been under scrutiny and have faced racism. But mostly, people are receptive and encouraging. I call us the "Oreo Family"—they are the chocolate and I'm the white stuffing in the middle!
What piece of advice would you give to people who are looking to improve the quality of their lives?
People's quality of life can be improved by changing the thoughts in their brains! Like I said, words are powerful! My own empowerment began when I realized I'd believed lies about myself all my life. I believed that I was too emotional, not very smart, not worthy of love, was broken and unlovely — to name a few. One day, in an act of courage and boldness, I finally told the lies in my head to "shut up!" and began purposely replacing them with what I call truths. If you care to read about that, click here. The truths I began saying to myself are universal: I am enough, I am creative, I am amazing, I am powerful and strong, I deserve good things in life and I am lovable. Brains are quite amazing. Even if you don't believe these words at first, when repeated often, your brain will begin to store them as part of your belief system. And that's what happened to me! It sounds very simple, but it took me several years to get there. I know that if I can do it, so can others.
What is your definition of self-love?
The first step toward self-love is what I wrote above. To me, self-love means discovering, then embracing all of who we are—the good qualities and those in need of work. We need to stop comparing, start taking care of ourselves, celebrate our awesomeness, recognize our abilities and strengths and act on them. We are all differently created for a reason. The world needs our unique gifts and the light inside of us, so self-love means letting it shine!
Mimi's Mission:
My mission is to inform, inspire, and ignite by speaking truth! I want women to realize that they are amazing! I want to give them tools they can use to change their lives. I want to celebrate them and help them celebrate themselves. I want every woman living in their full potential and power so they can shine their light. And I'm doing all that I can to accomplish this!
---
More on Mimi Matthews:
Feeling inspired? You can connect with Mimi on LinkedIn and visit the Passionista At Large website to learn more about Mimi's mission.
View all our women empowerment interviews by clicking here.
Know an empowering woman we should feature?: Email us at info@selflovebeauty.com