Jeans. My problem clothing since I was too young to remember. I have a vivid memory of when I was a teenager and my mom and I were back to school shopping. I tried on 50 pairs [No I am not lying either]. I could not find one that fit my body the way it was built. My body is shaped like many women I know, bigger on the bottom, smaller on top; an athletic build as well. I remember leaving the store that day, with tears in my eyes and discouragement set over me. I felt as though I must have been 'too fat' because I couldn't find a pair that was comfortable or made me feel beautiful and because I saw many young girls leave the mall that day with jeans. I went home that day and felt that if I wanted to feel comfortable in jeans and 'fit in', I had to lose weight and go on a diet. So at a teenager age that is exactly what I did. Even though the diet didn't last long, that memory and many other moments like this are forever with me.
Fit for every curve
Last year more than ten years after this moment, I was browsing a store looking for jeans, when I came across a pair that intrigued my attention. The tag on the jeans said 'Fit for every curve', so I took the size I thought I was and then thought 'oh I should probably grab two other sizes just in case I am wrong'. I know many women including myself will tell you, our sizes vary depending on the jean type. However, ironically this store didn't have those sizes on the rack so I tried this one size on.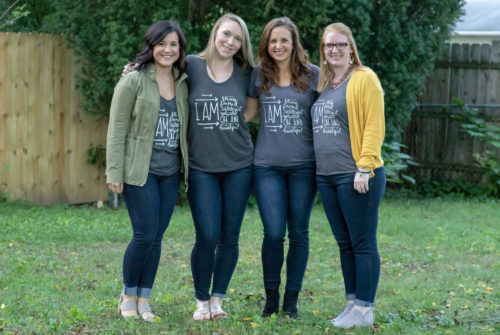 I started to put the jeans on by pulling them up and I kept pulling…it was so easy and as I buttoned my pants I looked in the mirror and stared at myself. They fit. They literally fit me perfectly. I was a little baffled to start then I realized a few things
1. I didn't have to just jump into a pair of pants to go over my butt [yay!]
2. They literally buttoned up to my waist without a huge waist space or to tight
3. I felt comfortable and beautiful!
For the Multitasking Women
I walked out of the store with a purchased pair of jeans and texted a friend who could relate telling her to buy them immediately. A week later I found myself buying another pair and then later another pair until I was up to many. Since Self Love Beauty's mission is very self-love and confidence based, I knew if these jeans made me feel much more confidence, comfortable and beautiful, I had to share it with others. I headed over to the Democracy Jeans website to learn more about their jeans and I decided to check out their mission to see if aligned to ours.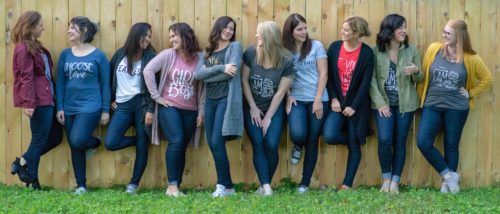 It Did.
The first words that come up 'Our mission is You' followed by a statement 'Our mission is to design and curate a lifestyle of wearable trends at unparalleled value, empowering dynamic and multitasking women of all shapes and sizes the freedom to be her own muse.' They live on the principle of 'Curve Equality' which acknowledges that all shapes are not created equal.
Are you nodding along now feeling stunned like I was? A company made for multitasking women like me and their mission is for me? They want curve equality? This company gets it. They get that my shape is different than someone else's? I was sold. My teenage self could have totally use jeans like this.

The Jeans Speak For Themselves
Yesterday, I had an opportunity to bring together 10 women to try these jeans on, that I have been raving about for a long time now. I made them each chose their size based on the Democracy size chart (which is so accurate by the way) and send to me so I knew in advance what sizes to get. Yes, they had to choose one size. I know this gave many of them heartburn because never do we get to go to a store and try on only one size. I assured them they wouldn't be disappointed and hope they would love them and feel as beautiful as I did. I received the jeans. Each jeans looked the exact same, same style, same color, same cut, the only difference was size.
As the women showed up, I handed them their jeans to go and try on. Every time they walked out of my bathroom I would ask 'So what do you think?'
Every woman would look at me, then back down to the jeans and back up at me and smile.
Statements came from 'I love them' to 'I can't believe how well these fit' to 'These fit like a dream' to 'Why didn't I listen to you when you told me about these before, they are amazing!'
The rest of the night was spent getting to know each other, chatting about these jeans and becoming closer.
Some of the comments around the jeans included…
"Normally when sit down my jeans continue slide down because of my tiny waist and I have to consistently pull them up and I haven't had to do that tonight."
"I have the issue like most girls, I have a bigger butt smaller waist and I love the band inside the waist area because it holds it all in and my pants stay up."
"The jeans are awesome, I really like how they fit but also how this style is skinny all the way down and the dark color."
"The jeans are phenomenal, they have a tummy control that makes me feel beautiful."
"These jeans fit like a dream, I have not had to hike my jeans up at all today and normally I would have been hiking them up multiple times."
"I love the jeans, I never find a pair I can just pull right one, I normally have to grab different sizes and try a bunch on."
"The jeans I love the dark jeans, the fit is amazing and I love that they are stretchy."
"The best part of the jeans is that we are all different shapes, sizes, different heights, different builds and today we are all wearing the same jeans and that's impressive."
In a way these jeans are making a change in the self-love and confidence of women everywhere. I love what they represent, their mission, their jeans but also the people behind the scenes building this company.
Be sure to check them out and follow them on Instagram.