"Who says girls have limits? We say you're Unstoppable #LikeAGirl. Blow the world away with your amazingness! Pass it on. Rewrite the Rules."
Well Always has done it again. During the Super Bowl this year, Always blew so many people away with their #LikeAGirl commercial, proving just how important it is that we teach girls that they can do anything #LikeAGirl. Recently, they came out with another Ad about how girls are #Unstoppable. I couldn't agree more.
This is a powerful new video made as part of their #LikeAGirl campaign shows youngsters list limitations they believe society puts on them.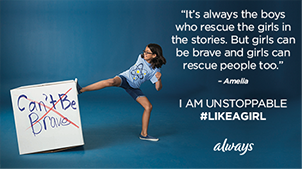 In one clip, one young girl says: "I can't really rescue anybody. It's always the boys who rescue the girls in the stories" and another girl explains she is told "girls cannot be brave."
The adults then ask them to write all of the things they've said on boxes – and then they smash them to pieces. The video is being described by many on social media as 'powerful' and 'important'.
Every day we are getting closer to showing younger girls just how strong and brave they truly are. It is time we rewrite the rules.
Always is now inviting girls and women everywhere to join the movement to smash limitations and to proudly share how they are unstoppable #LikeAGirl. So join Self Love Beauty and Always as we take this on together. Take a picture, shoot a video or send a message using the hashtag #LikeAGirl to take a stand and show young girls everywhere that girls can do anything and everything.