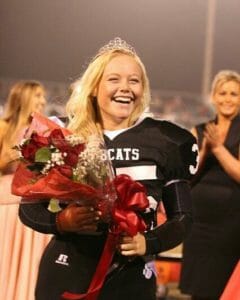 Fearless. She Believed She Could So She Did. Strong is the New Beautiful. Girl Boss. Confident Fearless Empowering. Just a few of our shirt sayings from our Beautiful Me collection that define the strong and empowering Alicia Woollcott.
Today, I was able to interview Alicia Woolcott, a senior at Grand Blanc High School. She is a competitive cheerleader, team caption of her high school powerlifting team and plays water polo. She is hoping to attend Central Michigan University next year to major in Athletic Training in the hopes to help injured athletes.
She was a tad late to our conversation only because well not only is Alicia part of so many great things at her high school, she is also on the school's football team, where she was coming from practice right before our chat!
Within in minutes, I could tell Alicia was a confident woman! Recently, Alicia has made her way around the news as a strong willed woman who plays football but also was named the Homecoming Queen at the game a couple weeks ago!
She recently premiered on the Today Show along with other news coverage like the Detroit Free Press and to our luck was able to sit down with us and be interview for everyone at Self Love Beauty.
I am a native of North Branch, MI just about 30 minutes from Grand Blanc and a football fan, so I had to share Alicia's story. Check out our interview below:
---
Alicia, you must be on cloud nine right now! So my first question, why do you like football so much?
Honestly, I have always loved football. I have watched it since I was younger and I was a cheerleader in 7th grade watching from the sidelines. After watching it and wanting to be out there, I decided to sign up the following year in 8th grade. I have planning ever since!
So…my next question, why the position of linebacker?
It wasn't my first position. I actually started as wide receiver and then my coach thought I would be a great fit as linebacker and I loved it! I love being the one making the contact and being on defense.
Were you ever hesitant about joining the team when you decided you wanted to play?
No. I never was; I just went for it. I was really excited and I had a great support system back home of two sisters and my parents who were standing beside me.
So how did the guys take it when you decided to join?
The first day of practice, I had no idea how everyone would take a girl playing football. I had one guy sa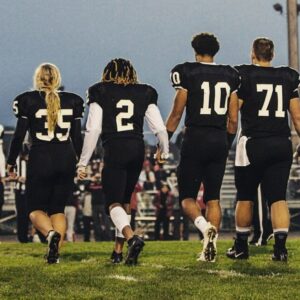 y something under his breath to the other guys but one of the guys that heard that stood up for me. He said we weren't going to be cutting her down instead we are going to support and respect her (go him!) and ever since then I have been supported.
So not only are you rocking at sports in high school but you were recently name the Homecoming Queen!, how did that make you feel?
It was absolutely incredible, I think like most girls we have always dreamed about it but it was just something we all considered; we didn't know if it would actually happen.
Since all this media, what has happened as a role model to younger girls?
Actually, it has been amazing. There is a younger girl in my community who is playing youth football and our families connected so today I get to meet her and watch her game! It is amazing to be a role model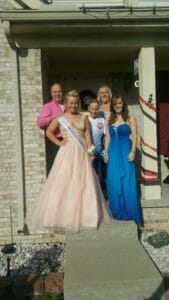 to these young girls when I am just being me!
So what advice would you give anyone out there feeling fearful of their dreams?
Follow your heart. But really, I know it sounds cheesy but do it. Know what you are getting yourself into and give 100% no matter what people think or say.
So as you know there is a lot of media around women joining 'men's' so to speak activities like cub scouts, different sports, etc, what advice would you give male who is feeling as though women are taking over their activities?
I would ask them to accept the girls. They honestly are there for the same reason as everyone else. Focus on the common interest (like football) instead of thinking male vs female. It is all about the positive attitude to have a great time!
What does self-love mean to you?
I am clearly passionate about positive self-image and women empowerment. It is really important to love yourself because then you will always follow your dreams and not let others bring you down. It is about what you think of yourself
Last but not least, I am a Denver Broncos fan, who is your favorite football team?
The Minnesota Vikings. My dad grew up there and I grew up watching them with him.
---
Okay okay, I won't hold her favorite football team against her. This is was such a great interview. I cannot wait to see what Alicia does next! Her advice to younger girls and men everywhere is extremely important. She shared her support system of friends & family and community as been amazing. I have to give kudos to her parents for supporting her. One thing I notice through all my interviews, those that have support around them, create change, so support those around you to make an even bigger impact.